History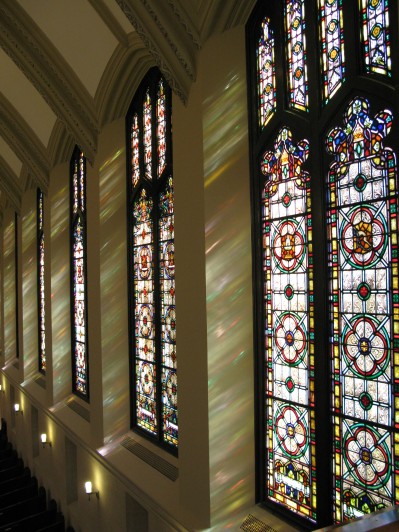 Organized on New Year's Eve 1871, First Presbyterian Church has for nearly 150 years been a beacon of Christian faith and hope where "cross the crowded ways of life" in downtown Durham. Its first frame house of worship opened at the corner of Second (Roxboro) and Main streets in 1876, to be supplanted in 1890 by a larger steepled brick edifice needed to accommodate a growing congregation drawn from the residents of the burgeoning industrial city of the New South. An emphasis on spirituality, guided after 1880 by full-time resident ministers beginning with Henry T. Darnall, combined with reform of the secular environment as well as with evangelizing local tobacco and textile workers. The church's mill missions vastly expanded Presbyterianism in Durham. Its Pearl Mill Chapel became Trinity Avenue Presbyterian Church. West Durham Chapel at Erwin Mills became Blacknall Memorial, and Edgemont Chapel became Fuller Memorial. The first church-sponsored foreign mission was planted in 1895 in central Brazil, followed by another at Soonchun, Korea, and others in Africa and Cuba.
The church grew during the pastorate of Edward Leyburn (1902-19) by virtue of the generosity of tobacco and textile magnate George Watts, in accordance with his religious life priorities: Sunday School (1913); the present sanctuary (1916); the present church house (1923). The enhanced physical plant became a hub of the city's religious life during the ministry of David Scanlon (1921-1938) when temperance, biological evolution and economic depression became central issues, as did democratization of church government. World War II and the postwar period found the church led by Kelsey Regen (1941-1960) and church hostess Clara P. Matthis. shepherding the congregation through a strife-torn world and reaching out to a flood of soldiers from nearby Camp Butner. Peace found democratic tides coursing through the flagship church when the Session in 1954 overtured Granville Presbytery to endorse ordination and installation of women as elders and deacons. The challenge of racial integration led the church to seat all who sought to worship, an enduring commitment to inclusion and hospitality to people of different races, nationalities, gender, and sexual orientation.
Industrial decline, urban demolition-renewal, and suburbanization challenged the downtown church and confronted it with a hard choice: retain its historic sacred space in the urban public square or migrate to the hinterlands. The decision was made to stay at the corner of Roxboro and Main–thus, the often-read statement about First Presbyterian Church: "Downtown by history and by choice." Completion of the Christian Education Building in 1964 attested to the congregation's resolve to proclaim Christ's presence in a changing city. Pastor David Currie (1963-68) promoted a broad-based urban mission outreach.
The Christian witness in the city expanded under successors Wallace Alston, Jr. (1969-74), Samuel R. Hope (1975-79), and talented associate ministers, including John B. Rogers, Charles Raynal, David Hester, the first woman associate minister, Carter Smith (1981-84), Arabella Meadows-Rogers (1985-92), and Lori E. Pistor (1993-2003). The church's Day School and the congregation's support for the development of the Urban Ministries of Durham became the most visible and continuing manifestations of a witness to the city. The pursuit of this witness continued and expanded during the long and fruitful ministry of Joseph S. Harvard (1980-2013) and Marilyn Turner Hedgpeth, Associate Pastor (2004-present) by strengthening links with Durham's African-American community, the establishment of Iglesia Emanuel Presbyteriano, Habitat for Humanity, and Durham Congregations in Action.
A new day dawned in February 2016 when the congregation called its first woman senior minister, Mindy L. Douglas. She thereafter led a church seeking to make a difference by raising a voice in the public square that echoed the inclusive and non-judgmental love of Christ in congregational worship, Christian education, and service to the city and its people, hallmarks of a commitment that led Judea Reform's former Rabbi, John Friedman, to praise First Presbyterian Church as "the central religious address in Durham."
Prepared by Peter Fish, Church Archivist
***********************************************************************
Postcard from Archives:  Arthur Watts Clark postcard to Dorothy Rankin on the historic meeting on whether to remain a downtown church.
Click here to see our Sesquicentennial Snapshots
---
Would you like to read "Downtown By History and Choice: First Presbyterian Church of Durham, NC, 1871-2013,"  our history book by Peter Fish?  Copies of Peter Fish's book on the history of FPC can be purchased at the church for $25 (make check payable to First Presbyterian Church), or at The Regulator Bookshop ($30) in Durham.
By mail order with discount: Go to the Carolina Academic Press website (www.cap-press.com); click on "Shopping Cart;" enter title (Downtown by History and Choice); click on "Check Out;" on page 1 of "online Order Form" go to box labelled "Discount Code" and enter FPCBOOK (in caps); make payment including shipping charge and sales tax for N. C. residents. Cost is $38.44.
Book is also available through Amazon.com for $65.00.