Sermons – 2022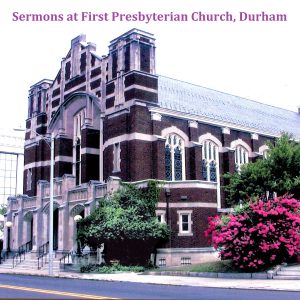 With the onset of the pandemic in March of 2020, FPC began broadcasting worship live on Sunday mornings via its YouTube channel.
On this page are links to the entire broadcasted worship service. You should click on the worship link to the video for the date you wish to watch and fast-forward the broadcast to hear just the sermon.
Contact the church office by phone (919-682-5511) or email ([email protected]) to determine if a transcript of a particular sermon is available..
DATE
SERMON TITLE

PREACHER
WORSHIP YOUTUBE (video)
December 25, 2022
Christmas Day
"Three Little Words"
John Weicher
https://www.youtube.com/watch?v=jpjK8tym_tw
December 24, 2022
Christmas Eve
"Seven Buses and the Expansive Love of God"
Mindy Douglas
https://www.youtube.com/watch?v=wOv_9R-UUcQ
December 18, 2022
Advent 4
A Service of Lessons & Carols
No sermon
https://youtube.com/live/8u4HaCTt5Ko
December 11, 2022
Advent 3
"A Scandalous Song of Hope"
Mindy Douglas
https://youtu.be/c2zj2PWlGwY
December 4, 2022
Advent 2
"Stumps, Shoots, and Trees"
Mindy Douglas
https://youtu.be/xLYLUdmk-Ko
November 27, 2022
Advent 1
"The One and Only Train"
John Weicher
https://youtu.be/pVMzGaj9XJc
November 20, 2022
Reign of Christ
"Beautiful Feet"
Mindy Douglas
https://youtu.be/egiHkl8tpJ0
November 13, 2022
Kathryn Lester Bacon
https://youtu.be/sdoxfrEZS9E
November 6, 2022
All Saints' Sunday
"For All the Saints"
Mindy Douglas
https://youtu.be/7G_6A9kaIIo
October 30, 2022
"The Heart of the Matter"
British Hyrams
https://youtu.be/FS1gJLdhYrM
October 23, 2022
Dedication Sunday
"How to shrink a camel"
Mindy Douglas
https://youtu.be/wtDdoOwitMU
October 16 2022
"Persevere - Do Not Lose Heart"
Sam Miglarese
https://youtu.be/gRMPCecPepI
October 9, 2022
"Mr. Loudermilk"
John Weicher
https://youtu.be/BV9wtzBhM_A
October 2, 2022
"Come to the Table"
Mindy Douglas
https://youtu.be/Ta-UEzJ6KjU
September 25, 2022
"Gates and Chasms"
Mindy Douglas
https://youtu.be/0sWbBjoEBvM
September 18, 2022
"One Strange Parable"
Mindy Douglas
https://youtu.be/P13sr1ZP0uI
September 11, 2022
"971 Pieces"
John Weicher
https://youtu.be/TBp3QgoN3Y0
September 4, 2022
"Count the Cost"
Mindy Douglas
https://youtu.be/UgMJWSIyyx0
August 28, 2022
"The Welcome Table"
Mindy Douglas
https://youtu.be/MUg4lGuhmnA
August 21, 2022
"Sabbath"
Vernon Cooper
https://www.youtube.com/watch?v=BZ_wlbLyuwI
August 14, 2022
"Talkin' 'bout the weather"
Cris Rivera
https://youtu.be/h1FF0zixjXI
August 7, 2022
"A Call to Do Justice"
Mindy Douglas
https://youtu.be/OEpBpoVNoY8
July 31, 2022
"Consider Steadfast Love"
Joseph Harvard
https://youtu.be/Iupn6YC_hmc
July 24, 2022
"Call to Prayer"
Mindy Douglas
https://youtu.be/chL1-hllFww
July 17, 2022
"And Yet"
John Weicher
https://youtu.be/mxQkNkxl-GE
July 10, 2022
"Making the Familiar Unfamiliar"
Heidi Biermann
https://youtu.be/5iywrXbAqGE
July 3 2022
"Freedom"
Mindy Douglas
https://youtu.be/rpu-DhGXC9c
June 26, 2022
"Bearing the Mantle"
Mindy Douglas
https://youtu.be/zEcXA3SalNg
June 19, 2022
"A Nap and a Sack"
John Weicher
https://youtu.be/Rn-cfa-L01k
June 12, 2022
"When 1 + 1 + 1 = 1"
Mindy Douglas
https://youtu.be/Jfdd5ATuq3g
June 5, 2022
"Pentecost in Person"
Mindy Douglas
https://youtu.be/-UzewCBd1BY
May 29, 2022
"Gundamentalism"
G. Wilson Gunn
https://youtu.be/1yAc77QEQ94
May 22, 2022
"Completely the Same and Totally Different"
John Weicher
https://youtu.be/dnOl4L1pyz4
May 15, 2022
"God's Inclusive Love"
Mindy Douglas
https://youtu.be/wCrUwnvGRC0
May 8, 2022
"Shepherding God"
Mitzi Lesher-Thomas
https://youtu.be/jaBcgcgyY2U
May 1, 2022
150th Anniversary Celebration
"Repairing the Breach: A Vision for the Next 150 Years"
Mindy Douglas
https://youtu.be/FrwNjDrD_DU
April 24, 2022
Creation Care - Psalm 104
David Smith
Barbara Buckley
Mitzi Lesher-Thomas
https://youtu.be/wkPAQ0k-5Ck
April 17, 2022
Easter Sunday
"Impossible Things Before Breakfast"
Mindy Douglas
https://youtu.be/-e1ZvP2x2Bk
April 10, 2022
Palm/Passion Sunday
The Passion Narrative
https://youtu.be/wFjA7iKqjAM
April 3, 2022
"Extravagant Love"
Mindy Douglas
https://youtu.be/Bo7vZzkvisU
March 27, 2022
McPherson Lectureship
"Look What You've Done to Me"
Macky Alston
https://youtu.be/Oy5KYzfQfk4
March 20, 2022
"A Songbook for the Journey
Nora Tubbs Tisdale
https://youtu.be/nSM8R3lhWL4
March 13, 2022
"Count the Stars"
Mindy Douglas
https://youtu.be/xJ0hEeusDhw
March 6, 2022
"It's a Bargain
John Weicher
https://youtu.be/4rCwManHYTA
February 27, 2022
"Peaks and Valleys"
Mindy Douglas
https://youtu.be/oLIu-c9XiJI
February 20, 2022
Laura McDow
https://youtu.be/IxUBqWKvMb0
February 13, 2022
"Like a Tree"
Mindy Douglas
https://youtu.be/wbLq4F6cM_Q
February 6, 2022
"Deep Water"
Mitzi Lesher-Thomas
https://www.youtube.com/watch?v=IH3fjyuS8CY&t=932s
January 30, 2022
"Abide"
Lori Pistor
https://www.youtube.com/watch?v=AfsZCUjdrfM
January 23, 2022
"Year of the Lord's Favor"
Sam Miglarese
https://www.youtube.com/watch?v=_ueO1mabXo0
January 16, 2022
"More than a Wedding"
Cheryl Barton Henry
https://www.youtube.com/watch?v=PqlvjmgMh1c
January 9, 2022
Baptism of the Lord
"Do You Know Who You Are?"
Joseph S. Harvard
https://www.youtube.com/watch?v=ZYysdOYtm0g
January 2, 2022
"Anniversaries"
Marilyn Hedgpeth
https://youtu.be/HItqYiuKEbc